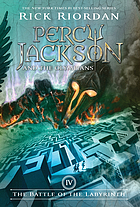 The Battle Of the Labrynth by Rick Riordan
Description:
Percy Jackson is back for more trouble, starting with setting his mom's new boyfriend's school on fire. From happy meals to erupting Mount Saint Helens, Percy is in for a HUGE summer.
My Thoughts:
I love this book, and all it's brothers and sisters. My favorite part was Calypso and Ogygia. :)
Recommendation:
Mythology freaks
--R.T., Sultan, grade 9
I'll be sending R.T. a free book, so don't forget to
send in your reviews
!