Watch a fabulous book trailer for Maggie Stiefvater's books,
Shiver
and
Ballad
.
Intrigued? Here are the blurbs for the books:
Shiver
by
Maggie Stiefvater
In all the years she has watched the wolves in the woods behind her house, Grace has been particularly drawn to an unusual yellow-eyed wolf who, in his turn, has been watching her with increasing intensity.
Ballad
by Maggie Stiefvater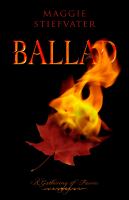 When music prodigy James Morgan and his best friend, Deirdre, join a private conservatory for musicians, his talent attracts Nuala, a faerie muse who fosters and feeds on creative energies, but soon he finds himself battling the Queen of the Fey for the very lives of Deirdre and Nuala.