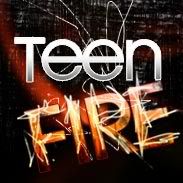 Do your friends just not understand your love of books? Are you searching for the right community to get your nerd on in safe online anonymity? Well, the publisher Sourcebooks may have the social network for you.
Teen Fire
has book groups, forums, chat, authors, contests,
free stuff
, and other nifty (yes, I AM that old) features. Users even have the ability to create their own profiles and pages. There's even a whole section devoted to
videos
of teens and their favorite books (which reminds me - you are working on your entry to
our video contest
, right? ;))
Check it out. You never know. You might just love it.
via SLJ