You've probably either read of have heard of the Hunger Games Trilogy. You may have also read
The Giver
,
The City of Ember
, or maybe
Fahrenheit 451
. The one thing all of those books have in common is a view of a potential future - one that is far from the glory of jet packs and flying cars. They are all part of a subset of Science Fiction called Dystopian Literature. Typical features in dystopias are a
totalitarian
government, futuristic technology, and the restriction of freedom.
Tell us which one of the books mentioned above make you want to read it - or share your favorite dystopian book in the comments and your comment will enter you in to win a hardcover copy of The Gardener by S.A. Bodeen.*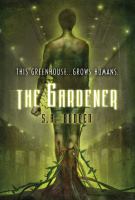 The Gardener
by
S.A. Bodeen
: When Mason rescues a frightened girl, he finds himself on the wrong side of the people behind the greenhouse and find his life in danger because they will stop at nothing to get her back.
Want more? Check out
our list of Post-Apocalyptic and Dystopian Fiction
.
You have until midnight on Thursday, August 26th to share your comment, and we'll post the winner shortly thereafter. I can't wait to see your favorites! Good luck!
*you must be a teen between the ages 12-18 and able to pick up your prize at one of the
21 Sno-Isle Libraries
.