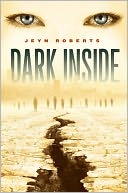 From the Alderwood Barnes & Noble:
Join us next Wednesday, Jan. 25th, at 7:00 PM for an free reading/signing with author Jeyn Roberts for her new book Dark Inside.
Dark Inside
looks to be pretty exciting:
After tremendous earthquakes destroy the Earth's major cities, an ancient evil emerges, turning ordinary people into hunters, killers, and insane monsters but a small group of teens comes together in a fight for survival and safety.
You can also
check it out from Sno-Isle
...we have 5 copies, and only 2 people are waiting!