I've been watching your faces fall for over 2 years as you learn the fourth and final book in Christopher Paolini's Inheritance cycle hasn't been announced or even titled yet. So I know how many of you have been waiting for this announcement!
Publisher's Weekly
posted today that the 4th book will be called, appropriately, Inheritance, and will be out November 8, 2011.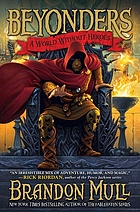 Enter your thoughts, expressions of excitement (or derision) and/or speculations in the comments, and I'll choose one random commenter to win a copy of Brandon Mull's new title BEYONDERS: A WORLD WITHOUT HEROES.
You have until midnight on Sunday, March 27th to comment, and only those ages 12-18 or in grades 6-12, who can pick up the prize at a
Sno-Isle Library
are eligible to win.